Population Research Centre
Institute of Economic Growth
The Population Research Centre, Institute of Economic Growth established a Census Data Workstation setup in a collaborative effort by the Office of the Registrar General, New Delhi and the Ministry of Health and Family Welfare, under the esteemed aegis of the Office of the Registrar General and Census Commissioner of India, Ministry of Home Affairs, GoI.

The Census Workstation was inaugurated by Dr. Vivek Joshi, the Registrar General and Census Commissioner of India on the event of the World Population Day – 11th July, 2022. A memorandum of understanding was signed between the Directorate of Census Operations, Delhi, and IEG, Delhi. Equipped with all the facilities for research on the Census of India Micro-Data, the workstation will function under the direct supervision of Prof. Suresh Sharma – Head, Population Research Centre Delhi.
Background
The workstations for research on census data are a joint collaboration between ORGI and different institutions. Across these workstations, all the published census tables from 1991-2011 and customized tables generated are available for researchers.
Based on the data collected during the census, the ORGI publishes important summary indicators and tables on statistics of the population. However, the massive unpublished data at the unit level has huge potential for in-depth micro analysis. The census data workstation enables researchers to study the social-economic-demographic context of India's population by providing access to anonymized Census micro-data for methodical research.
Objectives of the Census Workstations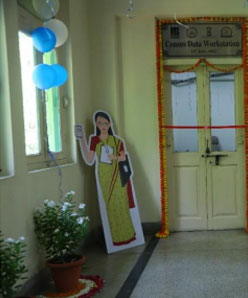 Leveraging the power of data for policy advocacy, quality research, and informed decision-making is the principle that guides the numerous establishments of Census Data Workstations across the country. The aim of making data available through several Centres across the country is to widen the reach and use of the rather rich data set. The objective of setting up the workstation is to primarily encourage the use of Census Data and Census Micro-data for research purposes. It allows for greater utilization of data by way of generating cross-tabulations from anonymized microdata, which is not possible while working with aggregate level Census data. Given that the Census of India is governed by the Census Act 1948 which mandated the respondent information to be kept confidential, the micro-data that is made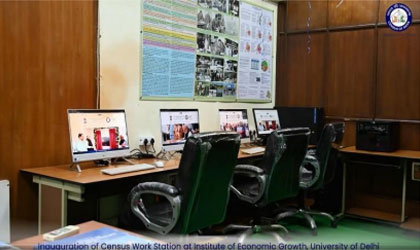 available is thereby anonymized by masking certain sensitive fields. The Census micro-data presents enormous scope to study varying demographic patterns of India's population, establish data validity and overall data quality measures, and to bring to surface evidence-based findings for thematic schemes and programmes focused on population welfare.
Procedure to access data
The facility at the workstation for micro data will be available to all Individuals for research and academic purposes. The facility is open to all including those who are not part of the Institute. Individual research scholar/student is allowed to access the data through the following ways:
The intended user of workstation has to submit a proposal to the Steering Committee stating the purpose of use of data. Those who are desirous to use this facility should apply to the Convener, Steering Committee in a prescribed form at least 15 days in advance along with the research proposal.
Once the research proposal is approved by the steering committee, the same will be communicated to the applicant, and the applicant can inform the faculty in-charge of the date and time of his/her arrival.
The facility at the workstation will be available on all working days and from 9.00 a.m. to 5.30 p.m.
The users of this facility have to produce their identity card/letter from the Principal/ Director/ Head of Department/ Research Guide.
The users of this facility are not allowed to copy the data from the computer. They can prepare summary tables, summary statistics or any kind of statistical results using SPSS and STATA software. The results can be taken in print form using the printer installed in the Centre.
Researchers are not required to pay any fee for using the facilities available at the workstation. However, a nominal charge will apply for the print outs taken from the workstation printer.
Users have to take utmost care in using the facility and will be held responsible for any damage to the computers, printers or any other item in the lab.
Users have to enter, at the entry and exit time, and sign the register with address, Mobile no. and e-mail ID